#9. AeroPilates Precision Series Reformer 610 with Optional Cadillac
AeroPilates Precision Series Reformer 610 with Optional Cadillac is a great combination of features and comfort by which you can feel the full benefits of aeropilates. The Reformer offers many different ways to do exercises. You can burn calories in fun, build strength, increase flexibility, and lose weight.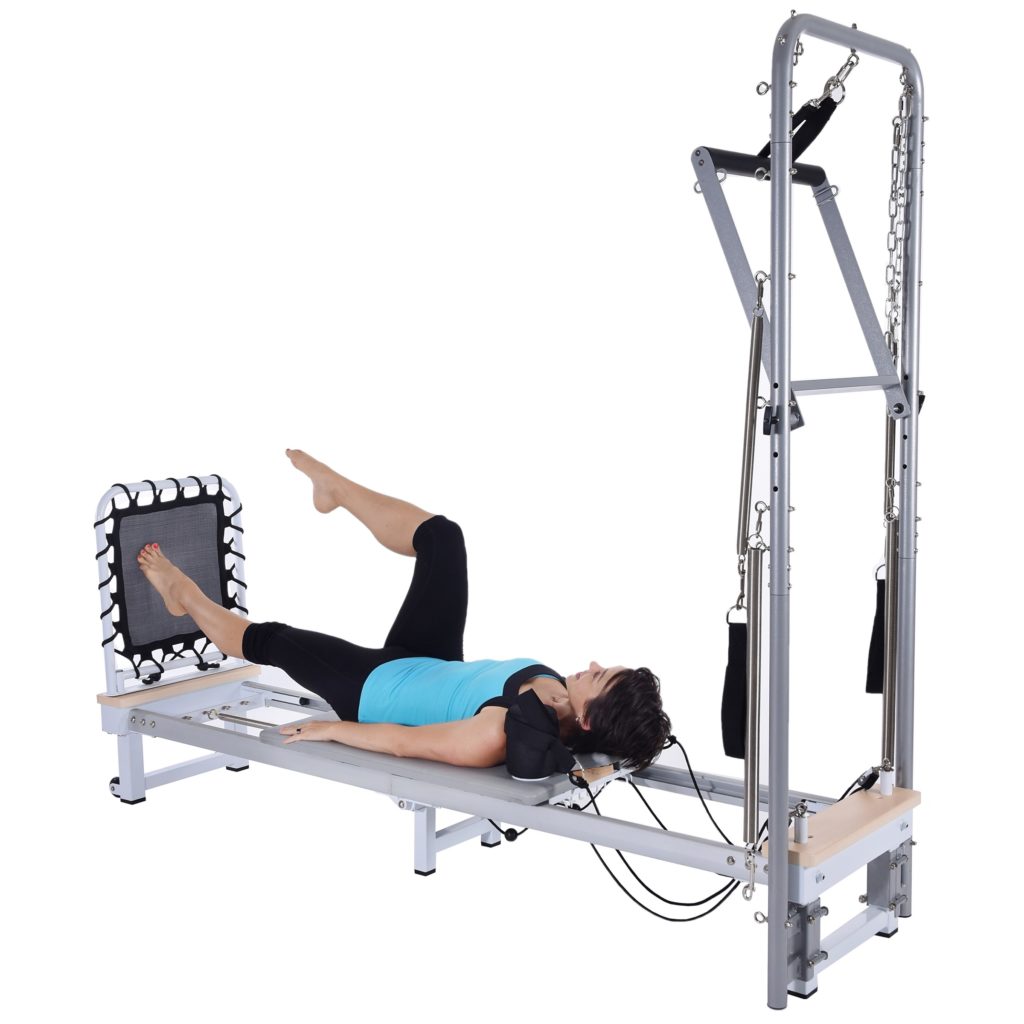 You may know AeroPilates is a superb Pilates reformer workout that helps to improve your cardiovascular performance, build strength and flexibility in your body. But did you know Precision is a vital principle of AeroPilates. Yes, this Precision series reformer gives you aluminum rails and ball-bearing rollers for smooth platform movement.
Beside this, it includes a wall chart, downloadable aeropilates primer, and the package videos of aeropilates basic workout. You'll also get AeroPilates Cadillac accessories, which take your workout to the next level in a new, fun, and joint-friendly way.
Features of AeroPilates Precision Series Reformer 610 with Optional Cadillac
Let's see the features of the Reformer and also with the Cadillac separately.
The Reformer
4 levels of spring resistance
There are 2 heavy and 2 light spring resistance with Patented Cardio Rebounder and wide padded foot bar, which provide 8 different difficulty levels for traditional Pilates workout.
Padded platform
You'll get foam shoulder pads, 3 position adjustable head rest and foot straps for extended comfort High-density foam shoulder pads with padded foot bar.
Elevated frame
Elevated folding frame adds exercise versatility and keeps it easier to get on and off Reformer. Beside this, Double loop hand and foot straps increase comfort to exercise.
Wheels
Wheels make it easily transportable and storable.
Cadillac Accessories
This Reformer comes with premium AeroPilates Cadillac accessory, a versatile piece of equipment allowing various types of potential Pilates exercises. You'll find,
Spring-loaded push through bar, roll down bar and arm, and leg springs allow for wide, full-body workout.
Clips and screws for height adjustment or easy exercise.
Textured, plastic hand grips
Double-loop fabric hand/foot straps
Foam protector for push-through bar spring
Solid steel frame construction
A workout video for the Cadillac accessory included plus 4 workout videos and 6 educational videos) to expand your workout potential.
Specifications
Brand: AeroPilates
Condition: New
Material
Reformer: Steel frame, steel springs, wood accents, aluminum rails, padded platform.
Cadillac: Steel frame, steel springs, wood bar, padded platform, padded hand and foot loops, plastic handle grips.
Product Color
Reformer: Wood accents, aluminum rails, white steel, gray platform.
Cadillac: Gray frame, gray platform, wood handle, black handles, and foot loops.
Product Weight
Reformer: 94 lbs.
Cadillac: 68.5 lbs
Assembly
Reformer: Assembly is required
Cadillac: Assembly is required
Recommended use
You can use it at home to improve your strength, flexibility, fitness, and reduce stress.
The Good about the AeroPilates Precision Series Reformer 610
Perfect for Full Body Workout
Push-through bar is Ideal for both upper and lower body workouts like chest press, leg press, front shoulder raises, deep back stretching, flutter kicks, and more.
Extended Comfort
Its hand, foot straps, and Free-moving springs allow for a wide range of motion.
Burn Calories In A Fun, Easy Way
The Cardio Rebounder and padded foot bar help to build lower body strength, tone muscle in a gentle, directed manner.
At Home
You can use it at home. You don't need to go to gym or Pilates classes. By using this machine, you can work out at your home and can save your time as well.
The Things Need to Improve
One reviewer says that it would be better if this folded in half. He also says it could be best to store the product in a vertical position.
Customer Questions & Answers
I'm 6'2. Will my body fit on the reformer?
Yes, your body will fit. It works for a wide range of heights from 4'10" up to 6'4″ then it'll fit comfortably.
How to access the videos?
After purchase, you'll get the email links to the videos.
Is this Pilates reformer with tower a good choice for beginners?
Definitely, as a beginner, there are a lot of exercises you can do. See the instructions and the videos.
What are the dimensions once set up?
The dimensions for the Reformer 610 are 89″ x 20.5″ x 20″ and the Cadillac Tower are 29.75″ x 3.25″ x 74.25″.
Customer Reviews
1. Customer Name: Joannam Smith
She says,
"I really love this Pilates reformer. The springs are softer and stunning. I love the Cadillac too. It gives me the opportunity to perform multiple workouts. It was much more expensive than my two last reformers, but it was worth it. So I saved about 500 USD as had a coupon. This Pilates reformer with tower is highly recommended."
Wise Advice
At first, search Amazon before buying this machine. You can discuss with your Fitness Trainer which machine will be best for you.
---